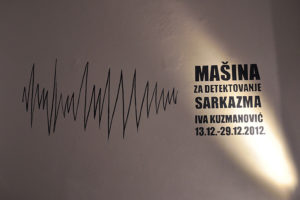 Iva Kuzmanović
|
December 13th – 29th
---
Straightforward, vivid pastel colours. Elements of cartoons. Lichtenstein – reinterpreted – hanging on one of the walls.  Iva Kuzmanović  makes a conscious use of popular aesthetics of the 60's. Her systematic approach is reminiscent to precursors of American pop art, but thematically it clearly reflects current social illusions. The protagonists here are not imaginary characters from comics, nor the idols of contemporary spectacle. The subject here is not the dust created by advertisements, nor our dazedness by  it. The focal figure is a marginal, nameless individual, opponent, outcast and an outlaw. Everybody and nobody at the same time. Us.
The voice is given to a homeless person, whose world exists exclusively within micro-ideological boundaries, liberated from modern life imperatives.  His self-accomplishment is achieved through an almost ritual maintenance of "mental hygiene". He is fulfilled.
This form of existence is confronted by seemingly unnecessary and false enthusiasm, grand narratives' stereotypes, and absolutes that lead to a complete disruption of the system: The sarcasm detecting machine is anticipating the explosion. Dumbfounded in this moment of suspension, only a trifle of a second is keeping us away from complete destruction and ashes. This moment of apprehension of complete collapse still allows the possibility of an exit. Are we going to inject an additional dose of enthusiasm to our system? Are we going to ask the Minister for help or escape through the harmless ventilation draft in the gallery wall?
Iva Kuzmanović uses what at first sight seems like a gleeful and carefree formal and coloristic approach, to problematize the bitter reality of social absurdity. She accentuates individuality and gives it its relevance. Action is achieved through micro narratives.  Omnipresent sarcasm is the main tool for the trivialization of the problem and overcoming it. This series of works is not reconciled with the final absurdity and the nihilistic conception of the world. On the contrary, it acknowledges the problem and stares at it eyes wide open. Comprehension itself is a fundamental precondition for further action, and whether it is going to be constructive or destructive, that depends on us.
Text: Nataša Vasiljević
Translation: Isidora Krstić and Iva Kuzmanović