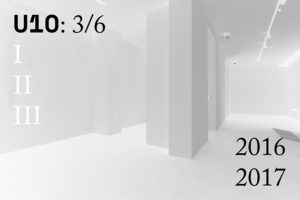 |
Wednesday, July 11th
→ 7.00 pm Promotion of the third biennial catalogue of U10 Art Space
→ 7.30 pm PONTON
→ 10.00 pm Little Lu (Downtown Airlines)

---
We are excited to invite you to the promotion of the third biennial catalogue of U10 Art Space as well as our sixth birthday party with a performance by PONTON on Wednesday, July 11th at 7 pm!
The third biennial catalogue features the exhibition programmes of 2016 and 2017, as well as the projects that the U10 Art Collective organized outside of the space. Since its establishment in 2012, U10's main goal has been to present the young art scene, and to connect with similar initiatives and individuals from the region and internationally. During these two years, more than 120 artists and curators took part in programmes that attracted more than 7000 visitors. U10 continues to be a space for exhibiting, connecting, establishing dialogue and supporting the young art scene in becoming more visible and active.
Art Space U10 would like to take this opportunity to thank all the artists, curators and other associates who have participated as authors in the programmess organized by U10, the representatives of independent associations and public and cultural institutions for their cooperation and assistance in realizing our program, as well as the public for their continual trust and support.
→ 7.00 pm Promotion of the third biennial catalogue of U10 Art Space
→ 7.30 pm PONTON
→ 10.00 pm Little Lu (Downtown Airlines)
Ponton are soundscape storytellers since 2008, originating from Belgrade, Serbia. This duo blends electro-acoustic noise and improvisation. Their signature sound is largely dominated by processed field recordings, circuit bent synthesizers and layered acoustic guitar textures. They play soundtracks for imaginary movies. These are improvised themes, misty and moody atmospheres for all daydreamers out there.
Band Members:
Igor Stangliczky – electronics,
Marko Jevtić – acoustic guitar
www.ponton.band
www.soundcloud.com/pontonband
https://www.facebook.com/pg/P0NT0N/