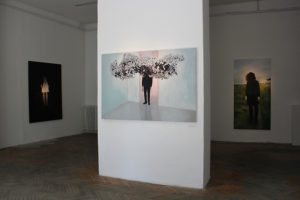 Marija Šević
|
September 20th – October 6th
---
"The riddle of art is that we do not know what it is until it is no longer that which it was"
Carolyn Christov-Bakargiev, dOCUMENTA (13)
When I saw the first painting from the series of figures at the annual exhibition of the Faculty in 2010, I was fascinated by an unusual "state" of the painting. Since then six paintings were created, two in every year. Their characteristic is a specific imagination in creating a motif from the seen, recognizing similarities, a theatrical display or association to familiar propositions.
It is important to stress that in the process of work, the paintings are created after a photograph, according to a preconceived idea, a theatric, performative and media framing of the work. The tones of the colours vary depending to the subjective expression that wants to be emphasized.
The paintings represent one static figure each, a male or female figure surrounded by a landscape or empty space with carefully executed proportions, in a frontal or side view, horizontal or vertical arrangement. All together, they reflect the withheld personality, intimacy and mystery of the moment.
At first glance they leave an impression of some aspects of 19th and 20th century art, such as the echoes of Romanticism, Symbolism, Existentialism or some other mythological motifs and expressionism. What is specific in these meta-paintings is actually the presentations of close friends and self-presentation and provocatively covered individuals with smoke, a pixel-cloud, darkness, the posture and hair, reminiscent to a silent theatre.
What do these paintings represent?
They are a symbolic world. A microcosm of man and woman. Two individualized personalities. The visible and invisible. Love and life. "Being together".
Personalization is a "state of mind", the affirmation of the status of personality according to the inner and outer manifestation, not in the framework of anthropocentric behavior, but as an individualized being equal to all living beings in the natural world. That is the expression of the right to participate in the global constitution of balance, connecting and raising the responsibility towards all crucial matters concerning life, existence, humanity and preserving planet Earth, through creative activism in art.
Today the "state of mind" is not a neutral statement but a position of refusal. It demonstrates the awareness of change, a new discharge of "new age" spirit and revolt, hope and openness that every participation in culture, life and general movements, that indicate to and position themselves against massive economical and political power systems and become a part of common interest in changes in civilization. Those are movements where the political is inseparable from human feelings, the energetic and creative connection of different scientific and artistic fields of work with other findings and investigations in contemporary and ancient epochs of the world. The actual humanistic visions of society are founded on a principle that a great potential is found in "becoming with", in the construction of human relationships which lie in accordance to their characters, affects, beliefs, emotions…as new life, social, artistic, cultural…planetary forms.
Text: Biljana Tomić
Translation: Isidora Krstić