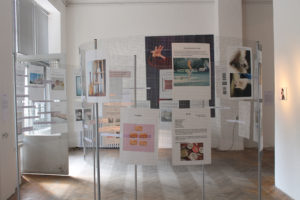 Kustosiranje
|
March 21st – April 6th
---
In the autumn term of 2012, the one-term course Kustosiranje was organized and included: the technology of the exhibiting process and project realization of Real World in collaboration with associate professor Milorad Mladenović, academic painter and graduate architecture engineer  (Faculty of Architecture), docent Radoš Antonijević, academic sculptor (Faculty of Fine Arts, University of Arts Belgrade) and the authors' team of project Kustosiranje Andrej Bereta and Srđan Tunić, curators and art historians, and its founders and members.
As a sign of recognition for the importance of this project, an invitation from the artistic council of U10 Art Space was received. Artists engaged in the work of Art Space U10 represents a unique example in Serbia and the region, founded on a courageous attempt to bring young artists together. It was initiated by painter and curator Nemanja Nikolić to successfully promote
the most interesting of the youngest generations of visual artists and their production. In the spirit of the exhibiting concept of U10 and as a support of significant achievements of new artist production, the participants of this exhibition were given a chance to officially introduce themselves in the field of art.
Students of Architecture, History of Art and Sculpture were given an opportunity to together at this occasion proactively conquer knowledge and skills about the process and technology of making an exhibition, develop the concept and produce an art work, along with the aid of curatorial practices and realization of the exhibiting project. The key point of this project lies within the cooperation between different faculties, multidisciplinary training and a way of working that enables students to gain knowledge for real-life situations which they are confronted with after graduation. Special
attention was given to motivating students in making independent choices of topics and an assignment that they solved using different contemporary strategies.
Through team work, students of the three before mentioned faculties of the University of Belgrade had the chance and responsibility, as a final project, to assemble the group exhibition 7×3 in Art Space U10 in Belgrade , whose opening was scheduled for March 2013. The exhibition model represents an opportunity for the public to have access to work results, as well as to the methods artistic education which were formed during this project.
The exhibition consisted of seven works, one for every team constituted from one student of Art History, Architecture and Fine Arts respectively. Every piece represented a unique idea and was the result of independent commitment of young creative individuals. 7×3 shows an entirely alternative approach in creating an exhibition whose initial idea was based on in-depth cooperation with related professions in the domain of culture.
Participants: Architecture: Hristina Stojanović, Filip Mikić, Maja Morošan, Sofija Bojanović, Anastasija Protić, Anđela Nikolić, Kristina Manolev, Ivana Jevremović, Art history: Tijana Zebić, Kristina Grebenar, Sara Sopić, Sandra Nikač, Senka Latinović, Iva Parađanin, Dušan Savić, Faculty of Fine Arts: Aleksandra Kovačević, Jelena Nikolić, Bogdan Pavlović, Maja Đorđević, Luka Tripković
The production of this exhibition was supported by U10 Art Space and the Faculty of Architecture, University of Belgrade
Text: Andrej Bereta i Srđan Tunić, curators and art historians and project authors of Kustosiranje / About and around curating
Translation: Isidora Krstić
Photo: Miša Mladenović, N. Ivanović