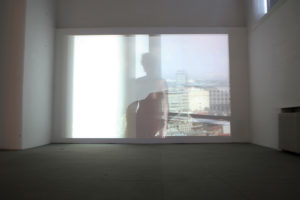 Branka Nedimović
|
June 13th – 29th
---
The poet Antonio Porchia once wrote something that sounds as if it would be put together for the exhibition Curiosity: "I know what I've given you, but I don't know what you've received".
Is the message that's supposed to be received hidden behind the obvious provocation?
In an attempt to decipher the methodology, it is also obvious that the models, namely all of the people posing, weren't found naked in different places. They took their clothes off exclusively for the purpose of art. The whole project is staged, whereas the result is created through a number of different choices such as the choice of the model, the setting of the shooting and finally the chosen photographs. The way in which the models are photographed raises a number of questions:  Is this erotic photography, pornography or an experiment? Are these nudists, exhibitionists or people seeking fun? Would they want to undress in front of our cameras? Would we want them to?
The quality of this exhibition is actually in the lack of a right answer.
The exhibition Curiosity stands on the border line dividing comfort and discomfort, freedom and fear and maybe eroticism and pornography. Here there is no drama, drama is no more substantial than a novel, and therefore the exhibition should be seen as a novel about people.
Concerning nudity, it seems it serves only a means of provocation. That serves us well, because it is often forgotten that it wasn't always like this. Philosophers question the reasons why civilization has moved forward more in culinary art than in the domains of eroticism, sex and nudity:
"The Greeks and Romans publicly honoured simply one part of human nudity – the phallus. It was depicted in a fertilize-ready state on all public squares and junctions, every façade, as well as on good-luck charms worn by young women." (From A. C. Grayling's, The Meaning of Things)
Text: Vesna Mićović
Translation: Isidora Krstić
Photo: Branka Nedimović