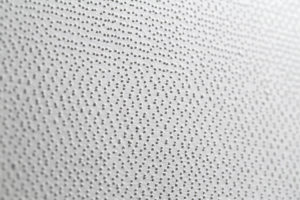 Nina Simonović
|
July 2nd – 18th
---
To look at Nina's drawings, we cannot but surrender to the impression that we're looking at the innocence of whiteness, the fragility of the soul, a determined hand, an imagined eternity, the core of time and the hint of a space where the visible and invisible meet… It is crucial to then ask oneself what is this sensitivity, longing, fear, hesitation embodied in a type of fragile security, determination and endurance of the artist… And then to reflect on her touching the deepest existentialist questions, the self, spiritual freedom and fluctuations in the human prevalence to exist. We have to confront that here we are dealing
with questions related to faith, obsessions and dedications where the artist pledges herself to finish a certain goal. Art is a riddle, a rule, liberation, an assignment and a result.
I would like to know more about what these drawings mean… as Matko Meštrović once wrote about Morelleto in early 1962: "I still haven't found a way how to write about these paintings, about this art. It would be so good to know, to be able to write about them as good as they know how to come into being".
It is not a coincidence to reminiscence Francois Moreletto at the beginning of the sixties when new forms of art were created one after the other and in parallel to each other; New Realism, Fluxus, Neo-Dadaism, Pop Art, Op Art, Kinetic and Programmed Art, Minimalism, Conceptual Art… and when artists who followed the tradition of post-Bauhaus, scientific developments, technology and information sciences, came up with new abstractions. These very artists subsequently gave priceless, subtle and nearly unrepeatable interpretations of drawing and painting, such as Agnes Martin, Channa Horwitz, Emma Kunz, Prabhavathi Meppayil and others. These examples just mark the passage of time when today we again have, through waves of digital obsessions, the possibility to create fantastic ambiental, audio, kinetic and visual structures, such as Ryoji Ikeda, whose work is simply so vast in its potential to grow and be presented. 
In this span between history and contemporality, the drawings of Nina Simonović express a delicate ambivalence between the computer
as a media and traditional manual labour as the memory of knowledge and experience of early childhood intertwined; and today, "moving through (dual) values and entities and the search to articulate form as a result of the succession of diverse values… in keeping and representing the very hesitation, or vibration, between them." She subsequently brings forward investigations of a conscious "undecidedness between sterilty/stripped down minimalism, binar aesthetics and the abundance of sensitivity in intimate expression".
Nina introduces digital drawing into her work, but keeps the specific tactility of the gesture and choice of material. It is like she feels the sound, how it folds or attracts her with its texture and like every material opens the method of work: folding, puncturing, rubbing and scratching… The nature of the chosen material often leads her into structural developments and reflections on: "rhythm, time, repetition, pulsations, obsession, traces or leaving traces, presence and absence, relations, vibration, dialogue, motion, perception, hesitation, process"… the performative ritual that happens again and again, like a mantra, a rhythm, flicker, the vibrating alternating view
, the surface of the drawing, subtle relief, regularity or random gestures, gestures in time.
Channa Horwitz excellently expressed the conditions of the duration, vibration and interpretation of time in this excerpt: "The self-evidently labor-intensive and painstaking process of creating the drawings themselves suggest their additional role as records of the artist's own time, labor, and thought."
Text: Biljana Tomić
Photo: Branko Starčević, Marko Jevtić and N. Ivanović