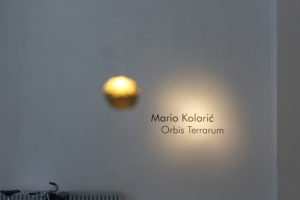 Mario Kolarić
|
April 9th- 18th
---
A record into the future
As a symbolic depiction of the relationships between space, objects, themes or ideas, maps have always been essential to us in order
to fully grasp the edges of a world, regardless of whether we refer to a physical territory or lavish mental imagery. Modern cartography marks its beginnings in the 16th century, with the creation of "Orbis Terrarum" by Abraham Ortelius, whose title Mario Kolarić rightfully takes on as the reference and title of his first major solo exhibition in Belgrade.
The magic appeal of vintage maps and their imperfect reading of the world is the central topic of the drawing opus that Kolarić partially presents at this exhibition. In the transition from fully abstract to essentially plastic floral motives, he manages to display visions of imaginary spaces that are at the same time self-defining, but also map out the author's wriggly path through his own subconscious. Allegoric, abstract compositions create a deeply personal atlas of the otherworldly, through which he skillfully navigates, leaving a trace of the imaginative look within.
The two-dimensional representation od these imaginary landscapes grows into a unique cabinet of curiosities at this exhibition, a part of the author's research process that is parched in front of the audience. Certain 'spatial situations' are exhibited, in which the motives initially elaborated by the way of drawings reach their physical and tactile dimensions. The idea of 'a drawing in flux' thus receives its luminous and kinetic embodiment, which represents only one stage of the artist's journey to the final spatial constructs of these ideas. The author puts his own investigative process into the center of attention, sharing with the viewer the unexpected alchemic alterations of movements that have been until now confined only to paper.
Mario Kolarić unpretentiously molds and weaves materials, forms and states of being, realizing an intimate, self-pleasing and enthusiastic phantasmagoric play that is halfway between an experiment and an illusion of a completed system. At the same time, he seems to be in control of and manipulating time, the ever-present element that unavoidably leaves its trace, whether through the impermanence of color on paper or the unexpected transformation of matter in motion. In an interesting twist, by using ancient, otherworldly textures and forms, Mario is actually putting together records that dive into the future, as messengers that will provide the author with feedback about the next temptations on his road to self-realization, and help him to draw out entirely new parts of his map.
This specific 'theater of the world' reveals the wealth of the author's inner world and offers
us another, intangible view
of the artist's self, which in this case is in an constant flux towards the unexpected. At this exhibition we are given a chance to overcome it and, together with the artist, perceive it at least for a single moment, before it tears off towards another vision – a new metaphysical territory.
Text: Relja Bobić
Photo: N. Ivanović