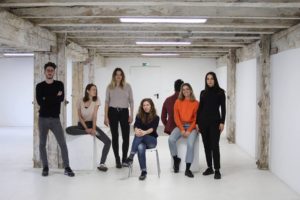 |
aqb Project Space, Budapest, Hungary
November 29th 2018 – January 4th 2019
Exhibitors: Lidija Delić, Nina Ivanović, Sava Knežević, Isidora Krstić, Iva Kuzmanović, Nemanja Nikolić and Marija Šević
---
U10 is an artist collective from Belgrade, Serbia. In 2012, as a reaction to the lack of sufficient supporting art institutions and exhibition spaces, they opened U10 Art Space in Belgrade – an independent, non-profit exhibition space dedicated to supporting local emerging artists. U10 has since become a must-see in the Belgrade contemporary art scene and thanks to numerous collaborations with similar liked-minded initiatives from the region and beyond, it strives to make Serbian contemporary art more visible internationally.
The artists that form U10 collective are bound by a common way of thinking, similar worldview and collectiveness, but in their individual artistic practices, they are developing their own personal poetics. In his paintings, Nemanja Nikolić makes his own way of transposing film, sound and music using the language of geometric abstraction, focusing on the cinematographic codes: the frame, the cut and the rhythm of their mutual interchange, rather than on the film narrative. On the other hand, Iva Kuzmanović uses pop-culture reference to re-evaluate the memory of her first erotic experience and the attitude towards sentimentality in general by creating paintings that are simultaneously an homage to its non-judgmental innocence, and an ironic criticism of it. Marija Šević paints intimate boudoir-looking scenes that represent young people lost in moments of leisure, partying and endless nightlife. She is putting the viewers into the position of voyeurs, making them accomplices in situations where the line between pleasure and self-destruction is difficult to define.
Lidija Delić bases her practice on an intermedial exploration of relations between her inner processes and the spaces that surround her. She expands and transforms internal spaces of feelings, dreams, memories and imagination through their transposition into the physical space and atmosphere of a gallery. Nina Ivanović's fascination with everyday situations and places that she had a chance to visit, document with her camera and later draw, led her to create monumental, but at the same time delicate spatial drawings in wire of urban or natural landscapes that are a certain kind of diary. Isidora Krstić's installation is also a form of visual essay, where she looks into her vulnerabilities, fears and anxieties regarding her memories and experiences in daily life. She interprets and shapes these sentiments through a sort of a ritualistic gesture into artefacts that for her embody past feelings and recollections. Rather than looking back, Sava Knežević takes the future as his main theme. His work deals with the ability of individuals to create their own systems, in which they privately fantasize about what the future might be like, although it can only lead to disappointment.
Through motives of personal space, everyday life, memories, the future, intimacy, the artwork as a personal diary, pop-culture and establishing interaction with the audience, each artist of the U10 collective creates an own narrative that maps their personal space and experience. Their recognizable collective identity, as well as the diversity of works in terms of media and topic presented in a joint show, give a good insight into the Serbian emerging contemporary art scene.
Text: Sanda Kalebić
Photo: Áron Weber