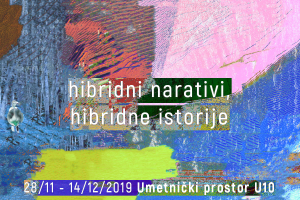 |
November 28th  – December 14th
---
Partcipating artists: Darko Vukić (RS), Liza Grobler (SA), Mirza Dedać (RS), Mila Panić (BiH), Igor Ripak (RS/AT), Sahar Sepahdari (IR/US), Goran Stojčetović (RS)
Curator: Nadežda Kirćanski
hybrid narratives, hybrid histories begins with the unsettling sound of multiple echoes from the past that might have something to do with us. Marianne Hirsch named it postmemory, aiming to signify a specific relationship that the new generation has to the memory of their descendants. It is an inherited narrative; the one that sometimes turns out to be rooted so deeply it appears authentic to one's own experience. A memory that is transmitted to the new generation through images, stories, and behaviors that reflected onto their surroundings, relationships, and perspectives. A fluid, fragmented narrative, an unstable compound built by filtering the already filtered until there is a semi-curated outcome we could deal with; a hybrid narrative, emerged from the shattered pieces of something that did not deserve to be a part of the history, or at least, could not afford it.
But this new generation, on the contrary, seems to be having severe difficulties remembering things: we forgot how to remember because the Internet does not need us to remember. The Internet that has lost its claim on the capital letter as it had (invisibly but fully) penetrated our reality beyond retrieve. We keep on forgetting how to remember things, or how to develop new tools for filtering and remembering since the old ones have been severely damaged with this amount of data flow. They have burned out, leaving us unequipped right here in the middle of our post-truth digital amnesia with a half-burned motherboard that needs to be rebuilt.
Works and experiences shared in hybrid narratives, hybrid histories explore the storytelling instruments that serve a counter-history, revealing and archiving the marginal, overseen, and hidden perspectives in correlation to the post-factuality era we have entered this millennium. It offers a virtual and physical forum to discuss our role in historical knowledge production and the ways we convey these narratives and methods to the next generations.
hybrid narratives, hybrid histories is a collaborative project between Nadežda Kirćanski and HEKLER – a collaborative platform and collective that focuses on the critical examination of hospitality and conflict through art projects, pedagogy, residencies, and archive. HEKLER is founded by artists Nataša Prljević, Jelena Prljević, and Joshua Nierodzinski in New York. The project started developing in November 2018, during Nadežda Kirćanski's residential stay at the Residency Unlimited in Brooklyn, as a part of the Mangelos Award she was awarded with in that year. Besides providing a two month residency, the Mangelos Award also includes a solo show term upon the recipient's return to Serbia.
The project hybrid narratives, hybrid histories was conceived as a group show with an aim to dilate the usual form of such shows by taking the role of a selector/curator; this show gathers both local and regional artists, including the ones she had a chance to meet and start collaborating with in New York. The experience that had a thorough influence on scaling this into a project was meeting HEKLER's activities and general mission which overlapped with what motivated Nadežda for the exhibition in the first place. The encounter with HEKLER platform has metabolically grown into a collaboration which resulted in this project – hybrid narratives, hybrid histories, an international art project consisting of a group show and a one-month residency in Belgrade for artists Liza Grobler and Sahar Sepahdari.
Photo: Igor Ripak