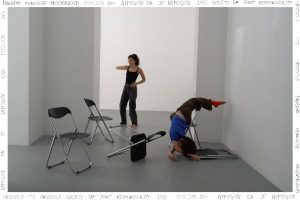 Society of Joint Responsibility / d.u.o.
|
---
Friday, September 15 at 20.00
IN THE MEANTIME
Jam Session is a term used by modern dancers for a spontaneous gathering during which they improvise, dance, play and create rhythm without any framework, be it time, choreography, sequence, etc. In this sense, this type of event represents a kind of breakthrough from everyday movement and normative behaviours, as well as the choreographic matrices that they, as dancers, rehearse, and it creates a space of unknown and free movement and production of meaning.
This experimental event is conceived as a fusion of these two specific situations by having the dancers hold one of their gatherings in the gallery space, with the idea of ​​creating forms and relationships through spontaneous / improvised movement and sound through the space.
Andrea Beganović (2002) is a student of architecture at the University of Belgrade, and has been dancing since the age of five. In the last 15 years, she had the opportunity to acquire education throughout Europe in various fields (ballet, contemporary dance, African, street, experimental dance), basing her work on those experiences, but deviating from strict technique. She sees dance as an instrument for communication, and in her work explores the limits of social dance, clubbing culture, space as the greatest influence on the dancer, but also the contemporary idea and place of dance in society. 

Sunday, September 17 at 19.00
Collective Poetry Workshop
"I hope I'm going where the others are going, because I think the cloud is big"
*the workshop will be in Serbian 
…
The project "Impossible it's impossible" within the framework of Podium 2023 is being realised with the support of the Secretariat for Culture of the City of Belgrade, the Goethe-Institut Belgrade, and U10 Art Space.