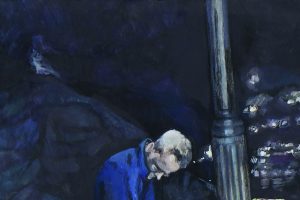 Nikola Grozdanović
|
February 9th – 25th
Thursday, February 9th, 7 pm: exhibition opening and music performance in collaboration with Nemanja Nikolić and Pavle Popov
Paintings of Nikola Grozdanović articulate everyday beauty. Through a combination of intensive colours and deep shades of black, his work on wood, fibreboards, canvas and paper provides nuanced social context through the usage of known markers and examines what it means to witness private, ordinary moments. Nikola started his artistic praxis as a painter who tended to use the expressive language of Neo-Informel. Through the exhibition "Tooth-man" from 2012, at U10 Art Space, he has gained wide recognition as an author who continues the tradition of Neo-Expressionism of the 80s, relying on the movements such as the Neue Wilde in Germany or Transavantgarde in Italy, taking the influence mostly from the Spanish artist Miquel Barceló. Today, eleven years later, his artistic expression takes an unexpected turn to the figurative compositions and portraits that radiate intimacy in chromatic assemblies that boldly play with light.
The emotion of Nikola's "People" remains within their fixating stare. In the painting "The Father" (all pictures made in 2022) a man's figure in a cosy armchair confidently stares towards us while the light of a hidden source illuminates his face and the peaceful space surrounding him. Painting "Mare" shows the artist's friend dressed in a working suit, holding a cigarette in his hand, pleasantly smiling at us. Space around him, painted in expressive layers of sand, negates perspective and, at first sight, evokes the author's previous artistic approach by simultaneously irresistibly resembling a brick wall, giving us the impression that the artist now uses abstraction with a narrative aim. The fact that Nikola spends nearly every summer in Montenegro selling souvenirs in a small coastal city would be utterly irrelevant if a good number of his paintings didn't depict precisely that – life at a campsite and semi-illegal businesses. In his painting "The Lightstealers", two figures casually steal electricity from a lamppost in order to shine their improvised booth. The painting "Zoki" portrays a man in a trailer, fixating on us again, that uses the trailer as a DIY for smoking the sausages.
In this exhibition, Nikola introduces another novelty in his approach, an installation in the middle of the exhibition space – a drum-set hand-painted green by the artist himself. The exhibition's opening includes a performance where Nikola will play with his friends, musician Pavle Popov and Nemanja Nikolić, the author of this text.
Nikola's skilful layering of social articulations represents the specific ability of figurative painting to portray complex sensibilities. The contexts of historical and contemporary, of public and intimate intertwine through his series of paintings "People", showcasing today's world with a deliberate peacefulness, without a tendency to offer great or pretentious conclusions.
Text: Nemanja Nikolić