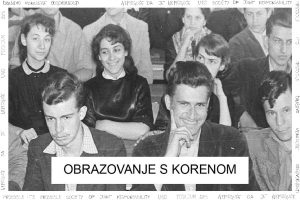 Society of Joint Responsibility / d.u.o.
|
---
Education plays a key role in the development of individuals and societies. It is the cornerstone for the development and progress of a community as a whole. However, to have its full impact, education must inevitably have a "root" – a firm foundation that ensures stability and long-term growth. Education can also be viewed as an artistic process that encourages critical thinking, innovation, and experimentation. Individuals are active creators of their own education by asking questions, exploring, and creating new perspectives.
EXHIBITION EDUCATION WITH ROOTS
The occasion for a series of events on the theme "Education with Roots" is the mini-exhibition with the same title, composed of drawings, photographs and texts. This exhibition is the result of the collaboration of artist Selman Trtovac with the Philological Gymnasium in Belgrade and literature teacher Dragana Ćećez Iljukić. The focus is on exploring connections that transcend generations, the passage of time and the continuity of education. Here, the main focus is on the life stories of several families whose members attended the same school over several generations.
The goal of the diverse exhibition program is to initiate the necessary dialogue about the meaning of education through artistic presentation. In the conversations to be had, we want to explore different education-related perspectives and ideas in order to better understand its impact on individuals, the community, and society at large.
EXHIBITION CITY GUERILLA AND ŠKOGRAD
As part of the program PODIUM – Society of Joint Responsibility – d.u.o., local initiatives will be invited to collaborate: the City Guerrilla and the Škograd/SchoolCity Research Centre, always in the hybrid format of workshops, exercises and discourse programs.
City Guerilla is a creative laboratory based on the following principles: Self-organization of young people, creative collaboration, peer group learning and alternative forms of education, and intensive exchange of knowledge, skills and ideas. The synergies of diverse factors contribute to the emergence of diverse creative spaces for the realization of diverse ideas in the field of art and social activism, with the aim of supporting the active participation of young people in the development of their own urban environment and in the strengthening of civil society.
Škograd was created by three activist groups – School of Urban Practices (City Guerilla), Škogled and Political Space Matters from Berlin – in cooperation with the "Vlada Obradović Kameni" elementary school in the Belgrade's suburb of Ledine. Its focus is on those issues that are usually left out of urban planning and educational practices. This primarily means mobilization of the local community and research-based learning to build capacity for active participation and independent initiation of change processes.
Accompanying program:
Thursday, September 7, at 19.00, U10
19.00-19.30 Opening of the exhibition
19.30-21.00 Guided tour of the exhibition in U10 Art Space and conversation about the project Society of Joint Responsibility/ d.u.o., with guests and students from the Philological and the Fifth Gymnasium.
 
Friday, September 8, at 20.00, U10
Audience participation in contemporary music
/ Lecture and (joint) performance /
Maja Bosnić (City Guerilla)
 
Saturday, September 9 and Thursday, September 14, at 19.00, U10
Thinking Forms / Speaking Forms / Sculpting Social Commoning
Game in Serbian, only on registration
Ana Pinter (City Guerilla)
 
Sunday, September 10, at 19.00, U10
What is music and why do we listen to it?
Lecture
Miloš Jovanović (City Guerilla)
 
Monday, September 11, from 17.00 to 22.00, U10
ChezMira / AtMira
A performative encounter
Mirjana Utvić (City Guerilla, Škograd)
 
Tuesday, September 12, at 19.00, U10
Stories from Škograd