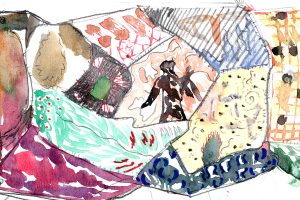 |
June 22nd – July 6th
"Residential Aliens" is a collectively produced artwork by members Ruben Visser [NL], Joop Schroën [NL], Machi Ziosi [IT], Clara Lezla [FR], Selina Landis [CH], Yannik Güldner [DE], Ariane Toussaint [FR], Cemre Kara [TR], RJM Vanderheyden [NL], Thijs Jaeger [NL], Beng Yuenyong [NL/TH] & Jonas Raps [NL] of the artist-run space Trixie in The Hague. For the first time since its establishment five years ago, its members came together  to collaboratively develop a work. Allowing the collective to reflect back on the past, while allowing it simultaneously to look into a collective future – what will be its future? 
This was translated by the collective into a "patchwork". A patterned network of relationships constitutes a coherent whole that exists between individuals, groups, and institutions. It is the formal structure of role and status that can form in a small, stable group. In essence a necessary precondition for working and living collectively. 
By choosing to make a "patchwork" the collective translated this idea into a material presence. The outcome of this exploration can be found within the exhibition space in various forms – ranging from a monumental textile work, to a series of paintings as well as an audio and video works. The techniques and methods used in the creation of all its individual elements are based on the individual practices and ideas of its makers, while the resulting "Gesamtkunstwerk" reflects its collective nature. Translating the mulitfacted nature of a collective into diverese range of works and approaches. 
Just as a "patchwork", human interaction is composed of many different elements but altogether they become one. And just as the composition of a patchwork makes individual elements feel like they belong together and create something new, a collective requires compromise, listening and caring just as Trixie. As a group of artists, designers and researchers, each in their own right specialised in a different field. To actually learn and create together aiming to materialise the feeling of togetherness and strength of the collective we are part of. Aiming to reflect through its composition on the concept of the social "patchwork" which can be best described as a social system.
About Trixie:
Trixie is an artist-run space located in Stationsbuurt, neighbouring the red light district of The Hague and led by a diverse group of emerging and established artists and cultural practitioners. Founded in 2018 by recent graduates of the Royal Academy of Arts in The Hague, Trixie is committed to providing space for young artists from different backgrounds to develop their artistic practice in The Netherlands. Currently, Trixie consists of 15 studios that host 18 artists, as well as a gallery and project space. Its current members are active in the fields of ArtScience, Media and Fine Arts, Graphic Design, Composition, Photography and Curation. Thereby, the initiative has a multidisciplinary approach at heart, in which a wide variety of approaches and practices help to understand current cultural developments from different perspectives.