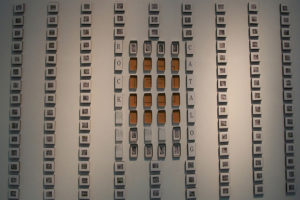 Nataša Stojanović and Rachel King
|
May 23rd – June 8th
---
The collaborative art project "Selling Fog" analyses the creative process as an important feature of the artistic practice, which is very often underestimated and neglected when it comes to the evaluation and appreciation of the artwork itself.
Today's world of seductive and manipulative visual imagery does not trigger critical and analytical thinking but rather commodifies the viewer's perception, turning him/her into a mere consumer of visual pleasure. This obsessive consumerism consequently leads to the creation of the new society – the society of 'the nearsighted voyeurs'. In this dysfunctional society the artist is seen as 'a fog seller' whose product is a result of leisure and hedonism, and as such is worthless. On the other hand, the art of deceptive story telling seems to be highly profitable nowadays especially regarding a production and distribution of absurd ideas. 
In the exhibition "Selling Fog" the artists Rachel King from the United States of America and Nataša Stojanović from Serbia, are applying the advertising sale strategies onto their own artworks in order to reveal, promote and increase the materialistic value of each art piece. Most viewers may not understand all the levels of art that exist today, but they understand the effects of marketing, advertising, and sales pitches. Those who are not familiar with the sophisticated language of the artistic ideas will be presented with the opportunity to see the art world through the interpretative lens of numerical pragmatism.
Text: Nataša Stojanović