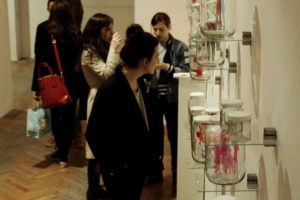 Ksenija Jovišević and Marija Marković
|
April 11th – 27th
---
If i am not for myself, who will be?
If i am solely for myself, what am i?
If not now – when?
A Talmud saying
From the Talmud wise men up until now, there has been a need to determine the human measure; How to live, and be a man at the same time? How to be in peace with oneself? How to live in harmony with the world around? There is always the question of the level of self-consciousness, self-sufficiency, selfishness and introvert which is necessary to survive as a human being, but at the same time not losing our humane dimension, not seizing to be a being of the world.
Impatience of the contemporary man significantly defines his view to the world, as well as the amount of pleasure and happiness he is able to feel. At times, in that continuous haste for things that would make our life "ideal", we often neglect it as it passes by.
And the happiness we are striving to and searching for is only in us. Wisdom is found in accepting oneself and the ability to achieve harmony with the world, as it is.
When, if not now?
Photo: Nevena Poledica