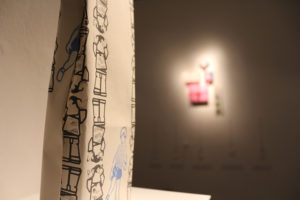 Silkscreen workshop and group exhibition
|
July 4th – 6th
---
Project author: Bojana Petković
Workshop leaders: Mane Radmanović, Isidora Nikolić, Marija Grahovac
Participants: Željko Lončar, Nino Maljević, Milica Kolarić, Valentina Brković, Nina Živković, Lidija Delić, Marija Knežević, Duško Ruljević, Mina Piščević, Stefan Starčević, Marija Simić Sarajčić, Maja Josifović, Bratislav Milenković, Davor Goromilović, Tijana Knežević, Dragan Đorđević
People that don't like getting presents are rare. It's a question whether there is someone out there who doesn't like to be handed a wrapped good of some kind. The theme of the workshop was found in the tactile feeling of an object at the fingertips and the way in which somebody's sign of appreciation is packed. It was initiated by Graphic Arts Youth Colony together with Bojana Petković in collaboration with U10 Art Space.
Lead by Isidora Nikolić, Marija Grahovac and Mane Radmanović, a group of authors have in the scope of three weeks daily been passionately producing wrapping papers which for them had a special
and personal meaning. The public will be able to witness each author's authentic relationship towards the ritual act of giving. Emotions associated to presents
were transferred to various forms of wrapping paper made in silkscreen print, enabling the packaging to be more important than what is inside. The present and the paper thus create a perfect entirety, begging never to be opened.
During the workshop, all of the authors were involved in the entire process of silkscreen printing. It included the development of sketches, work on pre-production, as well as the production of wrapping papers. The workshops were open for the public every day, where they could have more closely learned about this printing technique and all of its possibilities.
Text: Jordan Cvetanović
Photo: N. Ivanović
The project was supported by the Ministry of Culture Serbia, Symbol and the workshop partner Euro Papier.