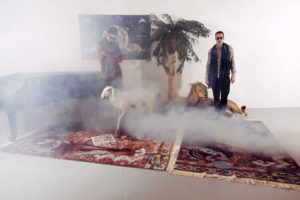 |
June 4th – 18th
---
The exhibition "Dolar, Hegel's Phenomenology of Spirit, Black Mass / Black Matter, LSTW-69, Made in China
and more…" will showcase works by artists Jože Barši, Alen Ožbolt and Veli & Amos, as well as editions from Viktor Bernik, Conny Blom, Vasja Cenčič, Lada Cerar, Ksenija Čerče, Vuk Ćosić, Boštjan Drinovec, Vadim Fiškin, Ištvan Išt Huzjan, Janez Janša, Janez Janša, Janez Janša, Žiga Kariž, Borut Krajnc, Laibach, Arjan Pregl, Sašo Sedlaček, Nina Slejko Blom, Small But Dangers, son:DA, Benedikt Terwiel, Matej Andraž Vogrinčič and Sašo Vrabič.
The participating artists were featured together during last year's Budapest Art Fair and their artworks displayed according to exhibition standards. This time the artworks (expanded with only a handful of new pieces), will take up a significantly larger space at U10 Art Space in Belgrade. The spacious and more typical gallery installation will nevertheless retain some of the elements specific to art fairs. Even though these fairs have a distinctly market-oriented logic, they still represent an interesting tour-de-force when it comes to reading or perceiving an artwork within the framework of a standard exhibition format.
In a way, the presentation of the artists in Budapest was also a small exhibition of sorts for Slovene contemporary art; the majority of the 25,000 visitors that came to the fair did so not only to purchase
art, but to see it. The "Dolar, Hegel's Phenomenology of Spirit, Black Mass / Black Matter, LSTW-69, Made in China
and more…" exhibition in Belgrade is therefore a transposition of the 'exhibition' organized at the art fair in the Hungarian capital.
Jože Barši
Barši graduated from the Faculty of Architecture, Civil Engineering, and Geodesy (Architecture) and the Academy of Fine Arts and Design (Sculpture), where he also specialized
. His work encompasses various fields of interest, ranging from site specific works to radio transmissions
as a form of exhibition space, as well as public lectures and auditory and conceptual works of art. His opus ranges from the deconstruction of sculptural objects to architectural research and the expansion into spatial installations, all the way to conceptual practices, like walking, sound, talking and reading. He is princiaplly interested in the applied, social, and relational value of artwork. His theoretical interests extend to the political philosophy of art. He also took part in numerous international and Slovenian residencies, seminars, and conferences. He represented Slovenia at the 1997 Venice Biennale.
Alen Ožbolt
He studied sculpture in Zagreb and Ljubljana. Between 1984 and 1995, he was active as a member of the Veš slikar svoj dolg (V.S.S.D.) artist collective, which represented Slovenia at the Venice Biennale in 1993 and 1995. In his opus, he combines various themes, procedures, and methods by questionning the physical, social, and cultural; this then serves as the foundation for examining art as a venue, an instiutionally fixed way of looking at the world, deleniated by gallery space. The poetic examination of form and a comprehensive approach to gallery space serve as the starting points for installations – "spatial images" –, which deal
with the institutional, ideological, and aesthetic value within the art system. He realized numerous and varied artistic projects and exhibitions both at home and abroad, being awarded many art scholarships. In 2003, he was presented with the Prešeren Fund Award. He also published several "visual essays", short articles, as well as a couple of longer theoretical texts on art, art spaces and phenomena.
Veli & Amos
Veli Silver, Amos Angeles
The artistic duo Veli & Amos do not restrict their artwork to space and time. That's to say they are constantly creating, using every available environment at any given moment. They exploit the hidden potential of everyday life, such as various coincidences, restrictions, and socio-political conditions. They infuse their own experience of the surounding world into artistic statements that first and foremost represent their outlook on the state of society. They do so without commenting, without criticizing, without moralizing. They merely create "pictures". As they say, "art is a movie and we are the directors". When Veli & Amos release their highly communicative artistic statements into public space, they in fact return them precisely where they were first found. Veli & Amos play with locations and overturn context.
Made in China
The MADE IN CHINA
 project is an attempt to establish practices which enable genuine contact between living, contemporary art and the public.
The selected artists conceived artistic multiples for MADE IN CHINA, either as works that can stand alone or as derivatives of larger, gallery-based projects. The artist were:
Jože Barši, Viktor Bernik, Conny Blom, Vasja Cenčič, Lada Cerar, Ksenija Čerče, Vuk Ćosić, Boštjan Drinovec, Vadim Fiškin, Ištvan Išt Huzjan, Janez Janša, Janez Janša, Janez Janša, Žiga Kariž, Borut Krajnc, Laibach, Alen Ožbolt, Arjan Pregl, Sašo Sedlaček, Nina Slejko Blom, Small But Dangers, son:DA, Benedikt Terwiel, Veli & Amos, Matej Andraž Vogrinčič and Sašo Vrabič.
The created multiples are artworks, which – in the context of the MADE IN CHINA project – introduce various artistic fractures in public space and consumer spaces, opening up new possibilities for communicating art to its intended recepients.
MADE IN CHINA are both market commodities and art. The long-term project takes on the task of operating in both structures, leading to unexpected fractures in seemingly smooth and quite independently functioning market and artistic modes of operation. The goal of the MADE IN CHINA project is to pave a path for art to its audience. It therefore endeavors not to deny its own identity – that of an artistic project.
GallerijaGallery
GalerijaGallery is a space selling the art multiples of the Made in China
project, as well as a space for smaller, thought-out exhibitions of contemporary visual artists from Slovenia and abroad. GalerijaGallery promotes
art as an important social practice and would like to become a place where socializing and dialogue come together in an artistic environment.
Project Manager: Viktor Bernik
Producer: Jara Vogrič
External partners: Vasja Cenčič, Žiga Kariž and Petja Grafenauer
*
The project is supported by the City of Ljubljana
Special thanks
goes to: Tiskarna Povše, Helios, and the Museum of Modern Art
Photo: Milan Kralj