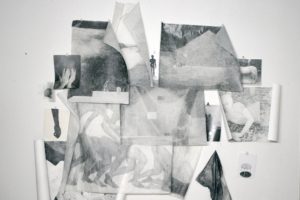 Jelena Fužinato
|
March 1st – 17th

---
The exhibition titled Part of Something Bigger and Better than You is presented at U10 Art Space as a post facto situation – after everything happened. A visitor encountering an already completed process (in the role of a belated actor) observes the works from the point of the author as well as from a temporal distance. It is precisely this intersection, where the audience feels unsure and the artist admits to not knowing enough herself, which enables us to read the underlying idea of the exhibition. Through this exhibition, Fužinato questions the relationship between authorship and the public which inevitably shapes the displayed objects and affects their behaviour. The works are based on a large amount of information "distilled" into fragments and visual records of particular places and events. The format of the exhibition and display is here understood as a challenge. Apart from questioning and criticizing the format of the exhibition the content of the work is further referencing ended processes and historical events whose resonance still interferes and "vibrates" in the present time.
By using the medium of drawing as a tool of "extended thought" and video as (a fictitious essay and) documentation of a fictional reality– a constellation of work is created which represents traces of intimate and subjective fields. However, upon closer examination of the exhibition, it is possible to notice the "common images" which influenced the creation of collective constructions.
How much do authentic memories constitute common ideas and vice versa? To which degree are the virtues of a free subject based on its own, authentic ideas? If we ask ourselves again – Why to exhibit at all? the answer could lie in the local context – to compare common parameters, to understand an individual position in relation to others, and to pose the question – What actually happened to us?
Photo: N. Ivanović