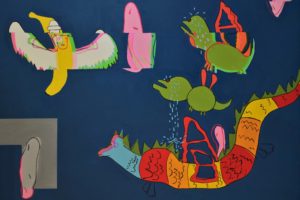 Bogdan Stefanović
|
January 18th – February 2nd

---
Starting with a resistance to ideas in art that have been dominant since the end of World War II, together with how the contemporary world functions, a certain frustration regarding these same, repetitive ideas arose. On the other hand, there is the childlike mind-set that wants to see the world outside of its limitations, but doesn't succeed at doing so. These opposing concepts on one hand complement each other, but in most cases the "child's mind" is confined by the frustration of not being allowed to escape the frame of rationality and what it had been taught throughout the years.
The paintings are a product of those opposed states of mind that as a result of this duality also have a meditative quality. The KAWAI.NOT paintings allow the viewer to perceive the carefree demeanour of a child through simplified drawings that reference Zen culture and the idea of letting go as the best way to further prosper. The frustration is further depicted through the distortion of the perceived. The bright colours along with the "primitive" drawings, work together to create a joyful atmosphere and lead you and your mind in a state where you are able only to think about the painting itself, without having to answer any political or other questions that may arise, which have been posed many times before in vain.
The paintings are done in simple, clean and bright colours. The themes vary and stem from personal imagination to the reproduction of well-known works of art. As the main character, the Banana represents a figure that deals with frustrations that come along the way. The Banana is there to protect us all.