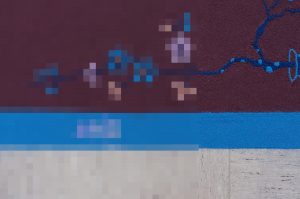 Gorana Bačevac and Sophia Sadžakov
|
September 6th – 21st
---
"Send me a picture of your room" is a collaborative exhibition of artists Gorana Bačevac and Sophia Sadžakov that allows us to contemplate the space we inhabit through the shown works. The exhibition evokes a sense of place that is both intimate and elusive at the same time. Even though they come from different backgrounds and work with different media, both artists reveal something significant about how we occupy and experience a certain space – both physically and psychologically.
French philosopher Gaston Bachelard published the book titled La Poétique de l'Espace (The Poetics of Space)[1] that particularly focuses on the personal, emotional response we have to certain spaces. The Poetics of Space is a phenomenological study of the sites of our intimate lives, the intimacy of our own house, our own bedroom. Relying on his thesis, the artists take a step further and question the viewer's perception of space by the (de)construction of digital forms – in turn allowing us to wander through their intimate spaces and imagined utopias. Their creative work is a manual process that can be seen as a comment on our own relationship with technology and its impact on our society in general. Using the room as a fundamental frame for the experience, the artists simultaneously reflect upon their personal and generalised sense of what a certain space can mean, as well as the intermediary zone between the artist and the viewer. By allowing the viewer to observe the work from a certain standpoint, for a certain amount of time boundaries are established, without whose presence it would be impossible to define ourselves and the space we occupy.
For the exhibition, the artists look inside and communicate with the given space, in the same way as if they were communicating among themselves. In Gorana's work you are aware that you are and aren't watching at the same time, as your eyes get adjusted to the composition of pixels and finally recognise the shape. The architecture of the exhibition space feels more like it was designed for the show and not the other way around. On first glance, Sophia's work is different, referring to the Tibetan ritual of creating a transitory sand mandala as an act of compassion and spiritual blessing. By using this repetitive ancient technique, Sophia recreates patterns from her childhood. To lay in someone's bed or to step into an artwork is a vulnerable act, but by allowing it, the public becomes both a participant and subject. The 'room' becomes a depiction of our own inscapes[2].
 Text: Nikoleta Marković
Photo: N. Ivanović
---
[1]Bachelard, Gaston; Gilson, Étienne; Stilgoe, John R. (1994). The Poetics of Space. Boston, Beacon Press