|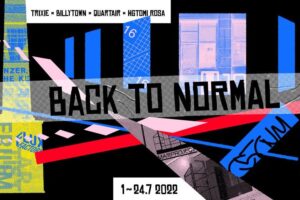 Trixie, The Hague, The Netherlands
July 1st – 24th 2022
Exhibitors: Lidija Delić, Nina Ivanović, Iva Kuzmanović, Nemanja Nikolić and Marija Šević
---
U10 Art Space is participating in a show as a part of the Back to Normal project, where Iva Kuzmanović, Nina Ivanović, Nemanja Nikolić, Marija Šević, and Lidija Delić will exhibit their works in the Trixie Art Space in The Hague.
Back To Normal is a collaborative and international exhibition + network event initiated by Alternative Art Guide and Artist-Run Network Europe (ARNE). Form July 1 to 24, three group exhibitions will take place in the centre of The Hague: at Quartair, Trixie, and Billytown.
This project is loosely based on the idea of normality after the pandemic and is now also challenged by the war in Ukraine. Is an artist-run space only a presentation and production hub, or do we need to reconceive what we are doing? Do we have to stop at our pace more regularly and engage in self-reflection? And, should we not rather move forward than go back to the normal?
Alternative Art Guide invited four artist-run spaces from The Hague to join this project: Hgtomi Rosa, Quartair, Trixie, and Billytown. Each of them pairs up with one artist-run space from Europe and one from outside of Europe, to form a collective of sorts and present 24 invited artists from all 12 spaces. As a part of this project, U10 Art Space will be exhibiting in collaboration with Trixie.