|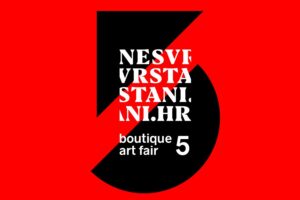 Lauba – The House for People and Art, Zagreb, Croatia
June 30th – July 3rd 2022
Exhibitors: Lidija Delić, Nina Ivanović, Isidora Krstić, Iva Kuzmanović, Nemanja Nikolić and Marija Šević
---
U10 is exhibiting in the Boutique Art Fair NESVRSTANI, which will be held from the 30th of June to the 3rd of July in Lauba – The House for People and Art.
Nesvrstani Boutique Art Fair was founded in 2018 in Zagreb, Croatia. Nesvrstani not only provides a commercial communication platform for galleries, but surpasses the classical model of an art fair and provides an opportunity for presentation of independent artists and art organizations, street art artists and professional education in the field of art market. Boutique Art Fair Nesvrstani deals with the topic of art market and aims to contribute directly to the greater valorization of contemporary artists and the creation of a new generation of collectors in the region of Eastern Europe. The organizer of the event is Lauba – The House for People and Art.
In this year's rendition of the Boutique Art Fair Nesvrstani there will be 13 Croatian and foreign galleries, as well as 20 independent artists. Among them is the U10 Art Space, which will be represented by: Nemanja Nikolić, Nina Ivanović, Lidija Delić, Isidora Krstić, Iva Kuzmanović and Marija Šević.
Find out more about the fair info here.