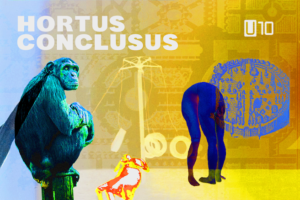 PODIUM
|
September 20th – October 1st
---
Conceived as a closed garden intended for contemplation, in the exhibition "Hortus conclusus" the space of the gallery is designated as an interiorisation of an allegory. In this case, the allegory is nature itself, ie. it contemplates itself. The works on display have been carefully selected to form an idea that is never finished, as the closed garden is in a cycle of constant construction and demolition.
The exhibitors are Slavica Obradović, Ksenija Jovišević, Andrea Palašti, Miloš Tomić, Boris Mitić and Stefan Ralević, while the curator is Stefan Ralević. The exhibition was assembled for the first time in 2018 without an installation. Now the works are observed with additional layers, created in the meantime. The exhibition questions how the authors reflect on their work in that past time, how the works reflect on themselves, and above all, what is their relation to nature, which consciously brings everything under its narrative.
From the 12th of July to the 2nd of October in the U10 Art Space there will be a new project to support the young contemporary art scene. The initiative is called Podium, and this year it will be led by five art historians: Jovana Trifuljesko, Nevena Bogojević, Kristina Armuš, Bojana Jovanović, and Stefan Ralević.
Photo: N. Ivanović